Australia captain Steve Smith withstood the charge of the England bowlers to leave the first Ashes Test delicately poised after two days in Brisbane.
On a fascinating and, at times, thrilling day, Smith made an unbeaten 64 to lead his side to 165-4, 137 behind.
That was a significant recovery from 76-4 as England's attack, expertly marshalled by skipper Joe Root, was excellent in the scorching afternoon heat.
Smith combined with Shaun Marsh, who is 44 not out, for an unbroken partnership of 89.
The tourists earlier lost their last six wickets for 56 runs to slip to 302 all out.
In control when Dawid Malan (56) and Moeen Ali (38) were together, England surrendered the initiative in a whirl of poor shots, aggression from Australia's fast bowlers and the trickery of off-spinner Nathan Lyon.
He claimed two wickets, while pace bowlers Mitchell Starc and Pat Cummins finished with three each.
To slump from 246-4 was feeble from England, but their total was put into context as Australia struggled to score freely on a pitch that remains slower than a usual Gabba wicket.
Although Smith and Marsh were solid later in the day, England are well in the hunt to end Australia's 29-year unbeaten run on this ground.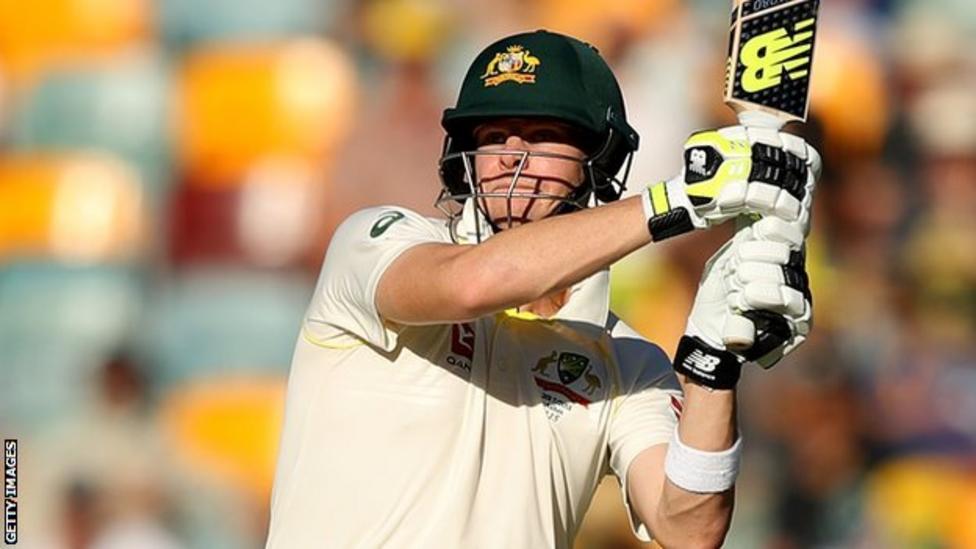 Ashes excitement arrives
If a first day when England reached 196-4 was attritional, disrupted by rain and not enough to really stir the crowd, then day two was when the Ashes excitement truly arrived.
It was cut and thrust as soon as play resumed at 09:30 local time, England more intent to play shots and finding the boundary with regularity.
When Australia's bowlers began to target England with short bowling, the hostility shown to the visiting batsmen rallied the home support.
For the first time in the match, the Gabba lived up to its 'Gabbatoir' nickname as the sight of an England collapse in front of baying fans evoked memories of the 5-0 whitewash in 2013-14.
Still, the Barmy Army were lively throughout, trading songs with hundreds of Australia supporters dressed as the late commentator Richie Benaud on a scorching afternoon.
During the Australia fightback, noise dropped as tension grew and at one point a scuffle in the crowd had to be broken up by the police.
However, perhaps the biggest cheer of the day had nothing to do with cricket, instead greeting a successful marriage proposal in the boundary-side swimming pool.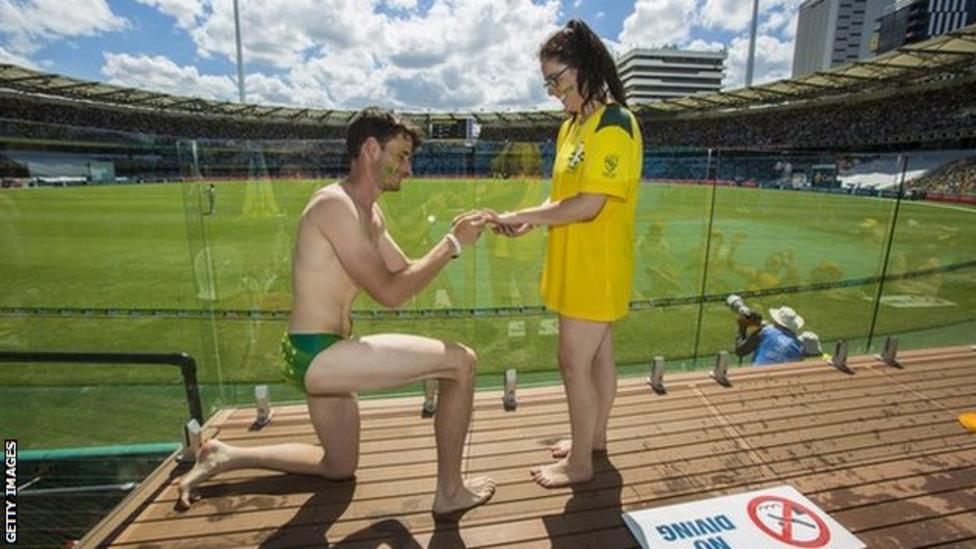 Smith stalls England
For a while in the afternoon, it looked as though the brilliance of England's bowlers would take advantage of Australia's brittle batting.
With Root directing fielders according to careful plans and the attack showing the discipline and skill to execute them, the top order was dismantled.
Debutant opener Cameron Bancroft poked at a wide one to be caught behind off Stuart Broad, while off-spinner Moeen, on after only eight overs, pinned Usman Khawaja in front.
Jake Ball claimed the crucial wicket of David Warner, the vice-captain tamely chipping to short mid-wicket, and James Anderson successfully reviewed a not-out decision to have Peter Handscomb lbw.
Smith, the top-ranked batsman in the world, stood firm throughout and gave no chances as he shuffled across his stumps to score almost exclusively on the leg side.
He found an ally in Marsh, who was controversially recalled to the side but grew in stature as the final session wore on.
Marsh twice edged through the slips, once off Moeen and once off Root's part-time off-spin. In the end, it was England who were happier to see the close.
The tourists and Ashes holders will come back fresher on Saturday, looking to break the fifth-wicket partnership in order to attack the lower order.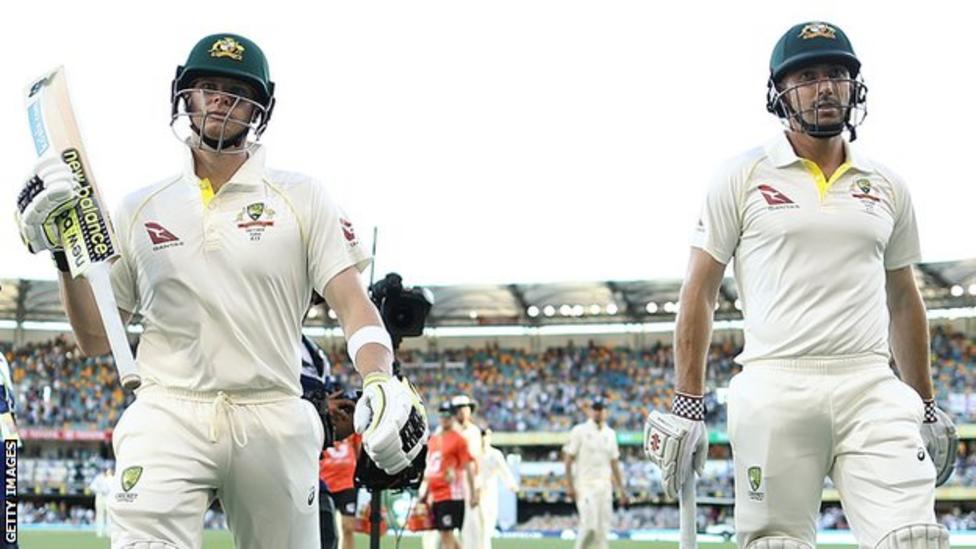 England engineer their own downfall
While Malan and Moeen were extending their fifth-wicket stand – worth 33 overnight – to 83, it looked like England would reap full rewards for their day-one patience.
Malan, the third Ashes debutant in England's top five to pass 50, played drives and hooks and Moeen swept Lyon as Australia's bowling seemed there for the taking.
But when Malan was sloppily suckered into hooking Starc straight to deep square-leg, it began a collapse reminiscent of England's defeat four years ago.
Australia's pace bowlers were energised into a barrage of short-pitched deliveries and Jonny Bairstow, Ball and Broad also fell to the short ball.
At the other end, Lyon trapped Moeen lbw and bowled a driving Chris Woakes to pick up the wickets his performance deserved.
It took Broad's swiping 20 to get England past 300, but from their earlier position they will surely feel like they should have scored more.